Ferrari F2003-GA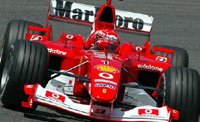 Active: 04-05-2003 - 12-10-2003
Team: Scuderia Ferrari SpA

Designer: Rory Byrne (CD), Ross Brawn (TD), Jean Todt (TP), Gilles Simon (HE)
Drivers: Michael Schumacher (1), Rubens Barrichello (2)
Ferrari started the 2003 season with their championship winning F2002 giving them more time to complete their new car. When introduced at Spain, the car was immediately good for 2 consecutive 1-2 podium finishes and eventually brought home both championships with the driver's title again for Michael Schumacher. While however a good car, its successor, the Ferrari F2004 would be even more dominant than any other car so far in Formula One. The "GA" addition to the car's name denotes to the late FIAT boss Gianni Agnelli who had died erlier that year.
The basic design concept is unchanged from that of the F2002. The sidepods have been made sleeker, wheelbase has been made 5 cm longer, and the cockpit moved a few cm's further from the front wheels. Because of the smaller sidepods, radiators have been made espacially to fit into the car. Because of its air-outlet 'fins', this car quickly became known as the 'shark'.
The chassis is new, both in terms of design and construction saving weight and improving structure over the previous F2002 chassis. The bodywork, radiators, exhausts and the rear end have been redesigned, leading to a further increase in aerodynamic performance. The mechanically operated power steering is also a new design. The front and rear suspension elements have been revised, to maximise the performance of the Bridgestone tyres and to improve the efficiency of the aerodynamic package. New materials have been introduced to reduce the weight and size of the engine and transmission. Like its predecessor, the new 052 engine is load-bearing and is mounted longitudinally. As usual, Shell made a significant contribution to the evolution of the 052, both in terms of fuels and lubricants, to ensure maximum performance and reliability.
While maintaining the same position and longitudinal mounting, the gearbox is completely a new design, achieving both a reduction in dimensions and weight. The gearbox is cast in titanium with seven speeds (plus reverse) and is electro-hydraulically operated with a sequential shift.
In keeping with a trend initiated by Ferrari and now almost universally adopted in F1, the car is fitted with a high level exhaust system, the same layout as seen on the Ferrari F2002.
The car's centre of gravity is lower than that of its predecessor, producing a further improvement in weight distribution for both chassis and engine. Ferrari believes that with the F2003-GA we have taken a further step forward maximising the performance of innovative materials and design whilst utilising advanced quality control techniques and philosophies to ensure safety and reliability.
Specifications
Chassis: carbon fibre and honeycomb composite structure
Transmission: Ferrari seven speed longitudinal gearbox operated by semi-automatic sequential electronically controlled gear change
Differential: Limited slip differential
Suspension: Independent, pushrod activated torsion springs front and rear with carbon fibre wishbones
Tyres: Bridgestone Potenza
Fuel: Shell
Lubricants: Shell
Dimensions
Overall length: 4545mm
Width: 1796mm
Height: 959mm
Wheelbase: 3100mm
Front track: 1470mm
Rear track: 1405mm
Drivetrain
Designation: Ferrari Type 052
Type: Naturally aspirated 90° V10 petrol engine
Total displacement: 2997cc
Cylinder angle: 92°
Estimated power: 920 bhp @ 18600 rpm
Valves: 40, pneumatic distribution
Electronics and ignition: Magneti Marelli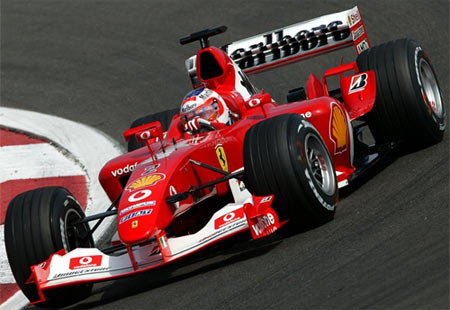 ---
---