Renault R23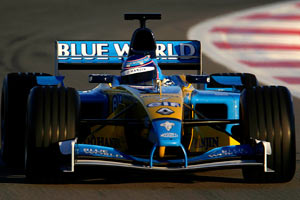 Active: 2003 - 06-07-2003
Team: Renault F1

Team: Mike Gascoyne (TD), Tim Densham (CD), Bob Iley (CA), Flavio Briatore (TP)
Drivers: Jarno Trulli (7), Fernando Alonso (8)
Launched in Lucerne on January 20, and track debuted at Paul-Ricard 3 days later, the Renault R23 soon proved to be a well designed chassis, enabling the drivers to excel on flowing and slower tracks. Continuous development of the chassis and aerodynamics led to a car that proved very effective with its tyres, allowing the team to consistently choose the softest tyre compounds made available to them by Michelin, without any obvious signs of blistering.
On the driver front, Jarno Trulli continued with the team. Jenson Button on the other hand was replaced by Fernando Alonso following an entire year as test driver for the team. Alonso, managed by Flavio Briatore, proved to be very mature for his age and drove a very consistent season, vastly increasing the popularity of the sport in Spain.
The car's tyre management first proved at the Malaysian Grand Prix where the team locked out the front row of the starting grid with Alonso on pole with the latter continuing to finish third. Later on in the season, Alonso went on to win his first Formula One Grand Prix at Hungary with the Renault R23B, an aerodynamic evolution of the R23.
There were negatives though, as in contrast to the chassis, Renault found it hard to develop its 112° engine to match its competitors running 90° V10's. Vibrations inherent to the engine's architecture made it difficult to increase its power while it also came in heavier than other race winning engines. The problems would mark the end of 3 years with the wide bank angle as the team chose to start development of a simpler 72° V10 for 2004.
With 6 races remaining in 2003, the R23 was replaced by the Renault R23B.
Specifications
Chassis: Moulded carbon fibre and aluminium honeycomb composite monocoque, manufactured by the Renault F1 Team and designed for maximum strength and stiffness with minimum weight. Engine installed as a fully-stressed member. Front suspension: Carbon fibre top and bottom wishbones operate an inboard titanium rocker via a pushrod system.This is connected to a torsion bar and damper units which are mounted at the front of the monocoque. Rear suspension: Titanium top and carbon fibre bottom wishbones operating vertically mounted torsion bars and horizontally-mounted damper units mounted on the top of the titanium gearbox casing
Transmission: Six-speed automatic gearbox with one reverse gear
Fuel system: Kevlar-reinforced rubber fuel cell provides reduced risk of fire and is mounted behind cockpit in chassis monocoque. Cooling system: Separate oil and water radiators located in the car's sidepods and cooled using airflow from the car's forward motion. Electrical: Renault F1 Team developed chassis electronics and software control items such as gearbox, and the system links to engine management system (Magneti Marelli). Braking system: Carbon fibre discs and pads (Hitco); calipers by AP Racing. Cockpit: Removable driver's seat made of anatomically formed carbon composite, with six-point harness seat belt. Steering wheel has gear change and clutch paddles attached.
Dimensions and weight
Front track: 1,450mm
Rear track: 1,400mm
Wheel base: 3,100mm
Overall length: 4,600mm
Overall height: 950mm
Overall width: 1,800mm
Overall weight: 600kg including driver, camera and ballast
Engine
Designation: Renault RS23
Type: Naturally aspirated V10
Cylinder bank angle: 112°
Capacity: 2998 cc
Valvetrain: 4 pneumatic valves per cylinder
Engine speed: In excess of 18000 RPM, providing a maximum power of more than 800 BHP
---
---