Jordan EJ13 Ford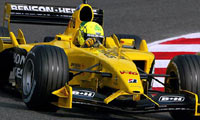 Active: 2003
Team: Jordan Grand Prix Ltd

Team: Henri Durand (TD), Gary Anderson (ED), John McQuilliam (CD), Nicolo Petrucci (CA)
Drivers: Giancarlo Fisichella (11), Ralph Firman (12), Zsolt Baumgartner (12)
The Jordan EJ13 follows two Jordan cars that were powered by Honda engines. When the Japanese engine manufacturer decided to put all its focus on the British American Racing (BAR) team, principal Eddie Jordan made a deal with Ford to get them to supply Cosworth RS engines in 2003, a deal that was spanning three years.
Jordan said at the 2002 Hungarian GP, when the engine news emerged: "What you will see next season will be a Jordan-Ford...which for me will be very exciting. It's a proper Ford related partnership. Jordan-Ford is the car and the engine will be a Cosworth RS". The Ford Cosworth was however not a true contender, and in fact, the team was given 2002-specification Cosworth CR-4 engines badged as Ford RS1.
The team was strapped financially, and the lack of sponsors on the car didn't really help either. Ralph Firman was signed up to partner Giancarlo Fisichella, mainly due to the sponsors he could bring along. He was replaced for two raced by Zsolt Baumgarter due to an injury. Jordan made convenient use of the chance to contract Zsolt Baumgartner, who became the first Hungarian to race in F1.
An unpainted EJ13 car made its shakedown on 15 January at Silverstone. The car debuted in the hands of Giancarlo Fisichella, literally across the street of Jordan's factory.
On track, the car was clearly not a front runner, but thanks to extraordinary weather circumstances, Giancarlo Fisichella secured his first race win in Formula One at the Brazilian Grand Prix. The team finished 9th in the Constructors' Championship with 13 points.
Specifications
Chassis: Full Carbon fibre composite monocoque.
Front Suspension: Composite pushrods activating chassis mounted Penske dampers and torsion bars, unequal length aerodynamic wishbones, composite top and bottom wishbones, titanium fabricated uprights and front anti-roll bar.
Rear Suspension: Composite pushrods activating gearbox mounted Penske dampers, unequal length aerodynamic wishbones, composite wishbones, titanium fabricated uprights and rear anti-roll bar.
Transmission: In-house Jordan Grand Prix design. 7 speed + reverse longitudinal gearbox with electrohydraulic sequential gear change.
Wheel Base: Over 3000mm
Front Track: 1500mm
Rear Track: 1418mm
Overall Height: 950mm
Overall Length: 4650mm
Overall Weight: 600kg with driver
Clutch: Triple plate Jordan/Sachs racing clutch
Wheels: Forged OZ racing to Jordan GP specification
Tyres: Bridgestone Potenza
Fuel Tank Capacity: Over 100kg
Powertrain
Engine name: Ford Cosworth RS
Displacement: 2998 cc
Configuration: 72-degree V10, naturally aspirated
Cooling system: Air / Oil – Air / Water radiators
Construction: Aluminium block and heads cast in Cosworth Racing's own foundry. Aluminium alloy pistons. Steel crankshaft.
---
---