Scuderia Toro Rosso STR7 Ferrari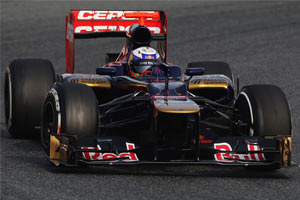 Active: 2012
Team: Scuderia Toro Rosso

Team: Giorgio Ascanelli (TD), Laurent Mekies (CD), Franz Tost (TP)
Drivers: Daniel Ricciardo (16), Jean-Eric Vergne (17), Sebastian Buemi (Reserve)
The STR7 was revealed on 6 February at Jerez, a day before the start of winter testing at the same circuit. The car was presented by the team's new drivers, Daniel Ricciardo and Jean-Eric Vergne, while at the same time a new sponsorship deal was announced with Nova chemicals, along with an extension of their existing CEPSA deal.
Technically, the car follows a similar design strategy as its predecessor, with long sidepods with a large undercut. Technical director Giorgio Ascanelli explained: "The third point relates to the exhausts as the rules now demand we relocate the exhaust exit to a more benign position, which effectively means no low exhaust blowing under the diffuser just ahead of the rear wheel. This has involved moving the exhausts higher, to where they were in 2009, before the new rules regarding bodywork had come out. This rule change has therefore led to the loss of a very high energy stream that will slow the cars down considerably, unless of course someone has come up with something particularly interesting! The exhaust blowing restrictions will effectively reduce the effect by a massive amount, down to about 10% of what it was last year."
A full technical analysis of the STR7 can be found at http://www.f1technical.net/news/17027
All in all, the car failed to live up the team's expectations, and it was later confirmed by the team that there was not enough room to alter the weight distribution in order to make the car work properly at every venue. It was also admitted that the suspension layout did not allow for enough different set-up possibilities and that the high sidepod layout was increasingly difficult to develop.
Specifications
Official car name: STR7
Chassis material: Composite monocoque structure
Bodywork material: Carbon fibre composite
Front suspension: Upper and lower carbon wishbones, torsion bar springs and anti roll bars, Sachs dampers
Rear suspension: Upper and lower carbon wishbones, torsion bar springs and anti roll bars, Sachs dampers
Steering: Scuderia Toro Rosso
Gearbox: Seven-speed hydraulic
Clutch: Sachs Triple-plate pull-type
Calipers: Brembo
Pads and discs: Brembo
Cooling system (radiators, heat exchangers): Scuderia Toro Rosso
Cockpit instrumentation: Scuderia Toro Rosso
Seat belts: OMP
Steering wheel: Scuderia Toro Rosso
Driver's seat: Carbon fibre construction,moulded to driver's shape
Extinguisher system: Scuderia Toro Rosso/FEV
Wheels: Advanti Racing
Fuel cell: ATL
Overall weight: 640 kg (including driver and camera)
Engine
Engine: Ferrari V8 Type 056
---
---