Marussia MR01 Cosworth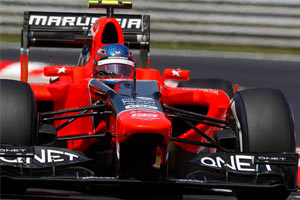 Active: 2012
Team: Marussia F1 Team

Team: Any Webb (CEO), John Booth (TP), Graeme Lowdon (SD), Nikolai Fomenko (ED), Pat Symonds (Tech. Consultant)
Drivers: Timo Glock (24), Charles Pic (25), Maria De Villota (Test)
After Marussia became increasingly influential in the team, the technical partnership with Wirth Engineering was terminated, starting a new development direction for the 2012 car. This meant that the MR01 was the first car of this team to not be developed solely by computational fluid dynamics (CFD) software. The team realised it would need wind tunnel testing to make a leap forward.
The start of the season however was troublesome, as the team failed to compete in any of the pre-season winter tests. Repeated failures in the mandatory crash tests did not allow the team to compete. The car was later launched on 5 March, following a shakedown at Silverstone, before passing its final mandatory rear crash test on 6 March.
During 2011, Marussia announced a technical partnership with McLaren, allowing the use of its secondary windtunnel and a crew of engineers. This results in a car that is a clear development of the MVR-02. The car features a nose cone that has a smooth upper profile, along with the McLaren MP4-27 and the HRT F111 the only car of 2012 with this feature. Towards the rear, the sidepods are still sloping down rapidly but with changed regulations now include the exhausts which exit close to the centreline of the car. To optimise rear airflow, the rear suspension is now a pullrod design, making 2012 a completely rear-pullrod field. The front suspension is conventionally still a pushrod design.
The team however stuggled from the start on, with Glock most notably consistently complaining of a problem at the rear of the car. The team had trouble finding the exact problem, but pinpointed the gearbox casing as being too weak. Apart from that, Marussia claimed its main problem was aerodynamic downforce. At Canada, the team introduced a low downforce package which did not bring any improvement during that race.
On July 4, the team undertook a straight line test at Duxworth with Maria De Villota behind the wheel. A seemingly marginal accident would eventually injure the team's testdriver badly, requiring extensive surgery and the loss of her right eye. It was at this event that the team started testing a changed nose cone and a new exhaust layout, trying to direct exhaust gases over the sidepod's slope onto the diffuser. Although this was a similar path to what other teams were going, it created hardly any performance improvement for the car.
Specifications
Chassis: Carbon fibre composite monocoque with Zylon legality side anti-intrusion panels.
Bodywork: Carbon fibre
Front suspension: Pushrod actuated with carbon fibre arms and carbon flexure joints
Rear suspension: Pullrod actuated with carbon fibre arms
Dampers: Penske
Steering: Marussia F1 Team designed hydraulic PAS
Gearbox: Aluminium construction with 7-speed Xtrac longitudinally mounted internals
Clutch: AP Racing
Brakes: Discs and pads: Hitco Carbon - Carbon / Callipers: AP Racing
Cooling system: Marussia F1 Team
Cockpit instrumentation: McLaren Electronics Standard ECU (as mandated by the FIA)
Seat belts: Willans six point harness
Steering wheel: Marussia F1 Team design with MES electronics
Driver seat: Anatomically formed carbon composite
Extinguisher system: FEV FIA approved system
Wheels: BBS
Fuel cell: ATL
Battery: Braille
Fuel: BP Castrol
Lubricants: BP Castrol
Dimensions
Front Track: 1800mm
Rear Track: 1800mm
Wheelbase: 3300mm
Engine
Designation: Cosworth V8 2400cc CA2012
Max rpm: 18.000
Engine weight: 95Kg (minimum FIA regulation weight)
---
---