Marussia MR02 Cosworth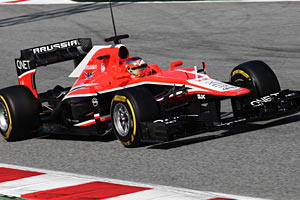 Active: 2013
Team: Marussia F1 Team

Team: Pat Symonds (TD), Graeme Lowdon (SD), John Booth (TP), Andy Webb (CEO)
Drivers: Jules Bianchi (22), Max Chilton (23)
Marussia presented its car on 5 February on the straight of Circuito de Jerez, early in the morning before testing kicked off. It is the first car for the team with KERS on board, having chosen not to add the complexity of such a system in previous cars. KERS however has become a must given its performance advantage. The car also marks the return of Pay Symonds to Formula One, after having worked for the team as an external consultant.
The car is a fairly simple but sleek design, pleasing to the eye thanks to its apparent aerodynamic simplicity. It features a development of the 2012 front wing, coupled with a nose cone also still very similar to its predecessor. Back in 2012, the team had opted to design a lower monocoque (to have the front bulkhead not at its maximum permitted height) to avoid a step in the nose. Marussia have retained largely the same monocoque design and therefore fitted its car with a similar nose cone as well.
The sidepods feature a less pronounced downward slope towards the rear, but instead the undercut has been increased to improve airflow underneath the exhaust. The latter is a development of the coanda exhaust system that the team introduced halfway into the 2012 season.
The most important change for the team was undoubtedly the KERS integration, done with the help of Williams Advanced Engineering, the same company that also supplies the team's KERS batteries and ancilliaries. Along with its continued partnerships with XTrac for the gearbox, McLaren for the use of their secondary wind tunnel and the continued use of the Cosworth engine, stability is in place to have a solid foundation for the team's future progress.

Specifications
Chassis material: Carbon composite
Bodywork material: Carbon composite
Front suspension: Carbon fibre with carbon flexure joints
Rear suspension: Carbon fibre
Dampers: Penske
Steering: Marussia F1 Team designed hydraulic PAS
Clutch: AP Racing
Brake discs: Hitco Carbon - Carbon
Brake callipers: AP Racing
Brake pads: Hitco Carbon - Carbon
Cooling system: Aluminium radiators
Cockpit instrumentation: MES SECU
Seat belts: Willans six point harness
Steering wheel: Marussia F1 Team design with MES electronics
Driver seat: Anatomically formed carbon composite
Extinguisher system: FEV FIA approved system
Wheels: BBS
Fuel cell: ATL
Battery: Braille
Fuel: BP Castrol
Lubricants: BP Castrol
KERS: Williams Advanced Engineering
Gearbox: Aluminium construction with 7-speed Xtrac longitudinally mounted internals
Dimensions
Front Track: 1800mm
Rear Track: 1800mm
Wheelbase: 3400mm
Engine
Designation: Cosworth CA2013
Type: 90° V8
Capacity: 2400cc
Max rpm: 18.000
Engine weight: 95Kg (minimum FIA regulation weight)
---
---