Scuderia Toro Rosso STR12 Renault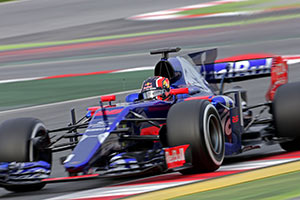 Active: 2017
Team: Scuderia Toro Rosso

Team: James Key (TD), Ben Waterhouse (DTD), Paolo Marabini (CD Composite and Structures), Guillaume Dezoteux (CD Vehicle Performance), Mark Tatham (CD Mechanical and Systems), Jody Egginton (HVP), Brendan Gilhome (HA), Alessandro Poggi (HEL), Graham Watson (TM), Franz Tost (TP)
Drivers: Daniil Kvyat (26), Carlos Sainz (55)
The radical regulation changes meant that the STR12, just like all other F1 cars of 2017, started life as a clean sheet of paper, but it was designed and built by the same people in Faenza and Bicester who produced its predecessor, which was regarded as an excellent package. In addition to that, Toro Rosso was able to secure a deal with Renault once again, securing it of a current and upgraded power unit, rather than the year-old Ferrari units it had to use in 2016. During that year, Renault made clear progress after 2 difficult first seasons in the hybrid era. Toro Rosso's Franz Tost also claimed at the launch that "looking at the engine and the way it is packaged in the car, it is particularly neat and tidy."
The STR12 made its track debut on Wednesday 22 February during a filming day at Misano in Italy. 100km are allowed in such event, but the team didn't get that far, as it had to halt running due to a power unit problem. The car was officially revealed in the paddock at Circuit de Catalunya on Sunday 26 February, the evening ahead of the start of pre-season testing on the same circuit.
Technically, the car features interesting design cues not dissimilar to those of the Mercedes AMG F1 W08. It features a similar narrow nose cone with front wing support positioned closely together. Just like on the F1 W07, an S-duct is present in the nose cone, with extremely similar inlet and outlet apertures.
The car also notably features an extension on the front uprights, enabling the upper wishbones to connect to the wheel more horizontally by pivoting on this extension, higher that would be possible with a mounting point directly on the upright. This feature was also included on the F1 W08 and impact both airflow and the front suspension kinematics. The rear suspension meanwhile is similar to the design on the STR11, albeit that the higher mounting of the upper wishbones was discarded to a more conventional position at the top of the carbon fibre gearbox casing. Along with the repositioning of the pull rod, the rear suspension ended up being very similar to that of sister team Red Bull Racing.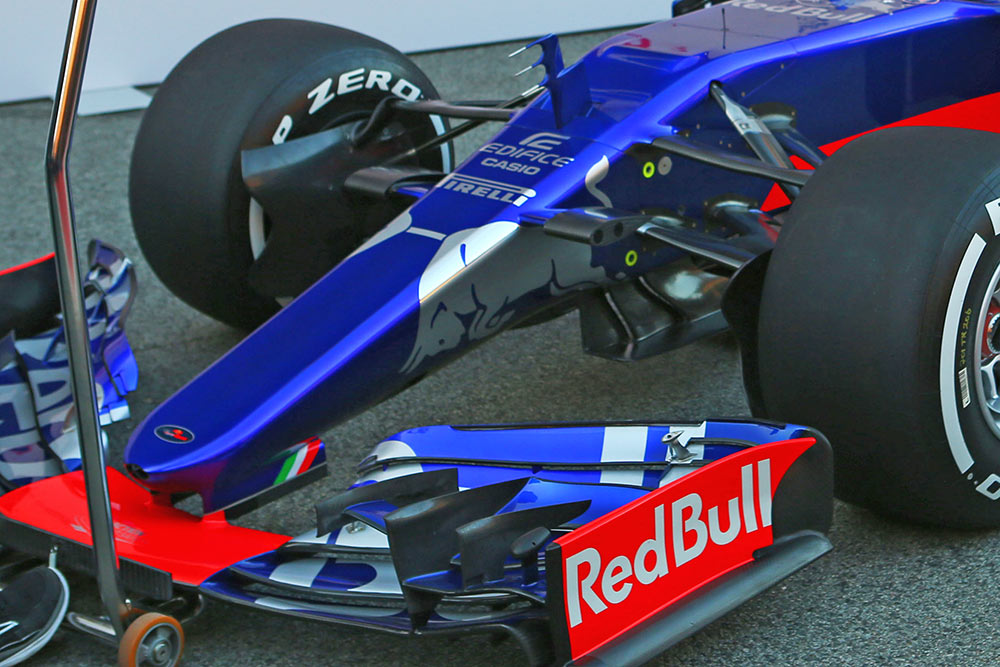 At the back, the car was slimmed down considerably, most likely because of the switch to the up-to-date Renault engine. As with all 2017 cars, a shark fin is of course also present, as well as a monkey seat located further back on the rear crash structure to improve its cooperation with the lower rear wing.
Overall, the STR12 impressed many by its innovative solutions, not least because the team's budget is a far cry from what top teams like Mercedes and Ferrari bring to the table.
Technical director James Key underlined the process of tackling a set of new regulations, and how his team ended up with the STR12.
Specifications
Chassis: Composite monocoque structure, designed and built in-house, carrying the Renault V6 as fully stressed member
Wheels: AppTech, forged magnesium alloy
Tyres: Pirelli
Front suspension: Aluminium alloy uprights, carbon-composite double wishbone with springs and anti-roll bar, dampers
Rear suspension: Aluminium alloy uprights, carbon-composite double wishbone with springs and anti-roll bar, dampers
Brakes: Carbon - Carbon with Brembo callipers
Electronics: MESL standard electronic control unit
Fuel: Exxon Mobil
Gearbox: Eight-speed gearbox, longitudinally mounted with hydraulic system for power shift and clutch operation. One-piece carbon maincase by Toro Rosso, internals by Red Bull Technology
Dimensions
Length: Undisclosed
Height: 950 mm (minus T camera)
Track width: 1,600 mm (front); 1,550 mm (rear)
Weight: 728kg (FIA mininum; incl. driver and lubricants, tank empty)
Width: 2,000 mm (FIA maximum)
Powertrain
Designation: Red Bull Racing - Tag Heuer RB13 - 2017 (built around the Renault R.E.17 ICE)
Type: Turbocharged, 90° 1.6l V6, assisted with kinetic and heat ERS
Valves: 24 (4 per cylinder)
Engine Construction: Cylinder block in aluminium
Rev limit: 15,000rpm
Pressure charging: Single turbocharger, unlimited boost pressure (typical maximum 3.5 bar abs due to fuel flow limit)
Bore: 80mm
Stroke: 53mm
Crank height: 90mm (minimum allowed)
Exhaust: Single exhaust outlet, from turbine on car centre line
Injection: Direct fuel injection, limited to 500bar
Weight: Undisclosed (at least 145kg)
Total horsepower: Approximately 900 bhp
Energy recovery system: Integrated Hybrid energy recovery via electrical Motor Generator Units
Energy Store: Battery solution (up to 4MJ per lap), between 20 and 25 kg
---
---