Ferrari F2008K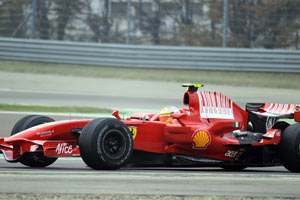 Active: 11-11-2008 - 2008
Team: Scuderia Ferrari SpA

Designers: Mario Almondo (Director of Operations), Aldo Costa (TD), and Gilles Simon (HE)
Drivers: Kimi Raikkonen (1), Felipe Massa (2), Luca Badoer
The Ferrari F2008K is a modified version of the F2008, built for testing the extensive regulation changes for the 2009 season. It features basically the same chassis, except if provides in all installation points for Ferrari's KERS system.
At its initial shakedown at Fiorano on 11 November, the KERS system to which it lends its name was not yet installed as it was not ready. Instead, the battery location behind the driver's seat is believed to be filled with ballast (approximately 7 to 8 kg) to simulate the weight distribution of the car with the new KERS system.
Additionally, the shakedown specification was also stripped of barge boards and all turning vanes in between the front wheels, as those will be outlawed in 2009.
Image by Gazzetta dello Sport
---
---