Scuderia Toro Rosso STR3 Ferrari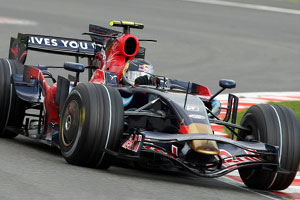 Active: 25-05-2008 - 2008
Team: Scuderia Toro Rosso

Designer: Adrian Newey (Red Bull TD), Giorgio Ascanelli (Toro Rosso TD)
Drivers: Sébastien Bourdais (14), Sebastian Vettel (15)
The Scuderia Toro Rosso STR3 is the car that brought the first victory for the team as Vettel won at a damp Monza in 2008. It is a much better car than the STR2B that completed the early races of the season.
Chassis wise, the STR3 is an identical car to the Red Bull RB4. It only really differs in the different engine. Contrary to its Red Bull counterpart, the STR3 is equipped with a customer Ferrari engine. While that proved to be an advantage, aerodynamic updates were always lagging a bit compared to Red Bull Racing.
As soon as it came in the hands of the Italian team, the STR3 underwent its first aerodynamic test in the hands of Red Bull Young Driver Brandon Hartley in Vairano at the end of March, when the New Zealander covered 983 km. The first real track test took place on April 16 at Circuit de Catalunya, Barcelona. By the afternoon though, Sebastien Bourdais crashed the only STR3 badly and hampered the team's progress. In fact it immediately caused for a delay of its introduction, moving back from the initially planned Turkish GP to the Monaco GP.
The team's technical director, Giorgio Ascanelli, who is mainly responsible for the on-track operations of the car, evaluated the car ahead of the British GP positively: "The STR 3 is a much better car. Introducing it once the season was underway was the wise choice although its introduction has not been painless. We suffered a significant lack of parts which delayed the introduction of the new car from Turkey to Monaco. I think we were brave, mad and clever to launch the car in Monaco, because it did pay off. We handled a difficult situation in terms of parts rather well and this weekend at Silverstone should be the first race where we have sufficient parts to race at a decent level. One side effect of this will be that our drivers will feel freer to take a few more risks, because up until now, they have been very mindful of our parts availability situation. I hope they will now be more daring and consequently go faster!"
Although the pace took off slowly, there was an obvious improvement from race to race, with especially Sebastian Vettel showing his capabilities. A considerable upgrade at the French Grand Prix improved the car but made it harder to rapidly get all out of the new package. During the season however, it became more clear that the Ferrari engine was a huge asset, as the STR3 became consistently faster than the Red Bull RB4 towards the end of the season. That progress and the mixed weather eventually allowed for a surprise pole position and win at Monza.
Specifications
Chassis: Composite monocoque structure, designed and built in-house, carrying the Renault V8 engine as fully stressed member
Transmission: Seven-speed gearbox, longitudinally mounted with hydraulic system for power shift and clutch operation.
Clutch: AP Racing
Wheels: OZ Racing, Front: 12.7in x 13in, Rear: 13.4in x 13in
Tyres: Bridgestone
Front suspension: Aluminium alloy uprights, upper and lower carbon wishbones and pushrods, torsion bar springs and anti roll bars, Multimatic dampers
Rear suspension: Aluminium alloy uprights, upper and lower carbon wishbones and pushrods, torsion bar springs and anti roll bars, Multimatic dampers
Brakes: Brembo calipers / Hitco carbon discs and pads
Electronics: FIA (MESL) standard control unit
Fuel: Elf
Engine
Designation: Ferrari 056
Cylinder configuration: V8, 90°
Cylinder block: Cast aluminium
Number of valves: 32
Distribution: Pneumatic distribution
Total displacement: 2398 cm3
Piston bore: 98 mm
Weight: 95 kg
Injection: Magneti Marelli digital electronic injection
Ignition: Magneti Marelli static electronic ignition
Fuel: Shell V-Power ULG 64
Lubricant: Shell SL-1098
---
---