Honda RA108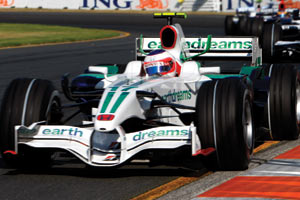 Active: 2008
Team: Honda Racing F1

Drivers: Jenson Button (16), Rubens Barrichello (17)
Team: Shuhei Nakamoto (TD), Jorg Zander (TD), Loic Bigois (HA), Craig Wilson (CE), Ross Brawn (TP)
Honda's RA108 is the first race car of a renewed Honda team after huge disappointments in the course of 2007. While the RA106 was good for a win in 2006, the 2007 campaign saw Honda fighting to get away from the rear end of the grid. In order to realise their targets, Ferrari's technical director Ross Brawn joined the team and immediately refreshed its internal workings.
At the car's launch in Brackley, the team also introduced "earthdreams", a global cause related marketing programme inspired by the Honda Racing F1 Team and evolved from the 2007 "myearthdream" initiative.
Due to the structural problems with the Honda RA107, the team built on a completely different concept, basically to allow for simpler development of performance upgrades through the season. It is why, at the launch, the car has a very basic but smooth look to it. Already during pre season testing, the team tested different front and rear wings. The new car is radically different at the front as it features a high and short nose cone, allowing for the front wing to work as efficiently as possible. Frontal downforce had been a considerable problem the year earlier. The sidepods have also been redesigned and are less rounded than was the case in earlier Honda Formula One cars. Viking horns were also added during testing while a midwing was an expected development. The jagged edge barge boards on the other hand are a proof
Team principal Ross Brawn also highlighted at the launch that the team aims for regular point finishes but is part of a long term strategy for Honda. Quickly in the season, emphasis was put on 2009 in which Honda aim even higher.
Specifications
Construction: Moulded carbon fibre and honeycomb composite structure
Suspension: Wishbone & pushrod-activated torsion springs & rockers
Dampers: Showa
Wheels: BBS forged magnesium
Tyres: Bridgestone Potenza
Brakes: Alcon calipers
Brake: discs/pads Carbon/Carbon
Steering: Honda power assisted Rack & Pinion
Steering wheel: Honda carbon fibre construction
Electronics: FIA standard ECU & FIA homologated electronic & electrical system
Transmission
Gearbox: Carbon composite maincase: 7-speed unit, Honda internals
Gear: selection Sequential, semi-automatic, hydraulic activation
Clutch: Carbon plate
Dimensions
Overall length: 4700mm
Overall height: 950mm
Overall width: 1800mm
Engine
Name: Honda RA808E
Displacement: 2.4 litres
Configuration: V8 - naturally aspirated
Vee angle: 90 degrees
Maximum power: More than 700 hp
Maximum revs: 19000 rpm (as limited by regulations)
Valve train: 4 valves per cylinder - pneumatic valve system
Throttle system: Electronic hydraulically-operated system
Spark Plugs: NGK
Oil: ENEOS
---
---