Scuderia Toro Rosso STR2B Ferrari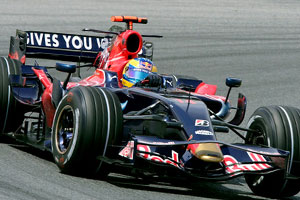 Active: 2008
Team: Scuderia Toro Rosso

Designer: Adrian Newey (Red Bull TD), Giorgio Ascanelli (Toro Rosso TD)
Drivers: Sébastien Bourdais (14), Sebastian Vettel (15)
The Scuderia Toro Rosso STR2B is a slightly modified STR2, mainly to resolve the reliability issues that the STR2 was struggling with. Especially the gearbox had been a concern for both Red Bull sponsored teams. All in all, the STR2B didn't undergo much development as it was only meant to get it through the first races before the introduction of the new STR3.
Until that time, it competed in the first five races of 2008, resulting in 2 championship points at Australia and 7 retirements out of 10 starts. Most of these were however racing incidents, rather than mechanical failures.
The team's chief engineer Giorgio Ascanelli assessed the STR2B stint as follows: "We had decided to start the season with a modified version of the '07 car and on balance, we have no regrets. However, in the early part of the season with STR2B, we picked up fewer points than we should have done, but this was not because we were using the old car, but rather it was down to the way we ran it and an unexpected reliability issue which was due to problems on quality control from a supplier. All the evolution components we fitted to the STR2 completed big mileages in winter testing and when we came to the races, they then threw up some difficulties. Nevertheless, we picked up two points in the first five races using this car."
Specifications
Chassis: Composite monocoque structure, designed and built in-house, carrying the Renault V8 engine as fully stressed member
Transmission: Seven-speed gearbox, longitudinally mounted with hydraulic system for power shift and clutch operation.
Clutch: AP Racing
Wheels: OZ Racing, Front: 12.7in x 13in, Rear: 13.4in x 13in
Tyres: Bridgestone
Front suspension: Aluminium alloy uprights, upper and lower carbon wishbones and pushrods, torsion bar springs and anti roll bars, Multimatic dampers
Rear suspension: Aluminium alloy uprights, upper and lower carbon wishbones and pushrods, torsion bar springs and anti roll bars, Multimatic dampers
Brakes: Brembo calipers / Hitco carbon discs and pads
Electronics: FIA (MESL) standard control unit
Fuel: Elf
Engine
Designation: Ferrari 056
Cylinder configuration: V8, 90°
Cylinder block: Cast aluminium
Number of valves: 32
Distribution: Pneumatic distribution
Total displacement: 2398 cm3
Piston bore: 98 mm
Weight: 95 kg
Injection: Magneti Marelli digital electronic injection
Ignition: Magneti Marelli static electronic ignition
Fuel: Shell V-Power ULG 64
Lubricant: Shell SL-1098
---
---