BMW Sauber F1.08B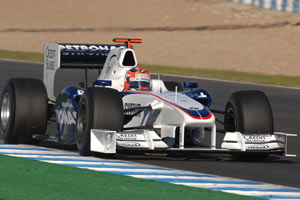 Active: 22-07-2008 - 17-12-2008
Team: BMW Sauber F1

Team: Willy Rampf (TD), Christoph Zimmerman (CD), Willem Toet (HA), Markus Duessman (Head of Powertrain)
Drivers: Nick Heidfeld, Robert Kubica, Christian Klien
The F1.08B is an interim car used and built by the BMW Sauber team during in-season and winter testing to prepare for the 2009 season. Early on after its introduction, the car was used for KERS testing, and it was only at the end of the 2008 season that the new aerodynamics were unveiled. The team deemed it necessary to have early testing results of the outset of the 2009 regulations to use as input in the design of the F1.09.
Two chassis were built, both eventually with the changed aerodynamics package which consisted of simplified sidepods and a basic 2009 front wing. While the rear wing was also new, it was not completely valid under 2009 regulations as it featured 3 elements, rather that the allowed two.
The costly interim design allowed the drivers to get used to the new regulations, earlier than everyone else. "Of course we lose a lot of downforce compared to the 2008 car," Robert Kubica confirmed after the first test session. "But because we are back from grooved to slick tyres, we have substantially more grip in slow corners. So with some more development I don't think there will be too big a difference between the 2009 and 2008 cars."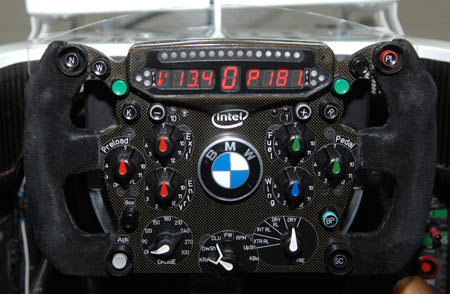 Only one of the cars was fitted with BMW Sauber's KERS system. It is with this car that one engineer got electrocuted when trying to roll it into the pitlane. He fortunately got away with moderate injuries.
A month after the incident, the team identified the issue as a rare problem with the control unit. Later on, Markus Duesmann, Head of Powertrain at BMW commented: "The mechanic suffered an electric shock after touching the sidepod and steering wheel of the car. There was a high- frequency AC voltage between these contact points, the cause of which has been traced back to the KERS control unit and a sporadic capacitive coupling from the high-voltage network to the 12-volt network (referring to an inadvertent transfer of electric voltage between two transfer media by inductive or capacitive coupling). The voltage ran through the wiring of the 12-volt network to the steering wheel and through the carbon chassis back to the control unit." The team's findings with the issue were then passed on to the FIA and the other teams to secure the safety of all engineers.
BMW's KERS system was designed by storing electric power in batteries, charged under braking. Its additional power - approximately 60 hp - was released by the driver with a special 'K'-button on the steering wheel which returned on the final 2009 car, the BMW Sauber F1.09.
Specifications
Chassis: carbon-fibre monocoque
Suspension: upper and lower wishbones (front and rear), inboard springs and dampers, actuated by pushrods (Sachs Race Engineering)
Brakes: six-piston brake callipers (Brembo), carbon pads and discs (Brembo, Carbone Industrie)
Transmission: 7-speed quick shift gearbox, longitudinally mounted, carbon-fibre clutch (AP)
Chassis electronics: MES
Steering wheel: BMW Sauber F1 Team
Tyres: Bridgestone Potenza
Wheels: OZ
Dimensions
Length: 4,600 mm
Width: 1,800 mm
Height: 1,000 mm
Track width, front: 1,470 mm
Track width, rear: 1,410 mm
Wheelbase: 3,130 mm
Weight: 605 kg (incl. driver, tank empty)
Powertrain
Type:
BMW P86/8, normally aspirated V8
Bank angle:
90 degrees
Displacement:
2,400 cc
Valves:
four per cylinder
Valve train:
pneumatic
Engine block:
aluminium
Cylinder head:
aluminium
Crankshaft:
steel
Oil system:
dry sump lubrication
Engine management:
standard ECU (MES)
Spark plugs:
NGK
Pistons:
aluminium
Connecting rods:
titanium
Dimensions:
Length: 518 mm
Width: 555 mm
Height: 595 mm (overall)
Weight: 95 kg
Maximum engine speed: 19,000 rpm

Images by BMW Sauber
---
---