Red Bull RB4 Renault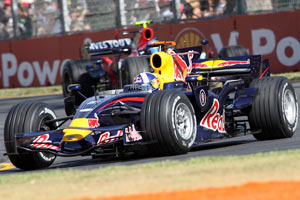 Active: 2008
Team: Red Bull Racing

Designer: Adrian Newey (CTO), Geoff Willis (TD), Peter Prodromou (CA), Rob Marshall (CD)
Drivers: David Coulthard (9), Mark Webber (10)
The RB4 marks the second Red Bull built and designed under the lead of Adrian Newey. As is usual with his designs, the first one, the RB3 was a completely new car, yet it had to be built in a very short timespan. The RB4 is a logical evolution to an already fast car that mainly suffered from reliability problems. The car was launched in a low key event at Jerez on 16 January. At that time, the car was only mechanically changed and still looked almost identical to the RB3. It did however contain the new gearbox which is required to last 4 races. We expect that developing that gearbox may have taken a considerable amount of time after the 2007 specification was one of the main worries of the RB3, which on its behalf was one of the least reliable cars. During the next winter tests however, the team displayed, among other parts, barge boards with jagged edges, a tailfin engine cover and modified sidepod air intakes.
Thanks to the recruitment of Geoff Willis, Red Bull's technical team was strenghtened and marked the reunion of Newey and Willis as they had worked together at Williams on some of the most succesful single seaters in Formula One.
Christian Horner, the team manager commented at the launch: "Last year was a year of evolution, with the first Adrian Newey designed car. This year is the first in the team's history that we have continuity in all key elements: staff, drivers and engine partner. We go into this season on the back of a year in which our performance improved and there is a real sense that we are operating efficiently as a team, having come a long way since Red Bull's initial investment back in 2005. Prospects for 2008 are encouraging and we are looking to make a step forward from where we finished last year. It is an extremely competitive field and the new challenge of running a common ECU with no driver aids will hopefully play into the hands of David and Mark, who certainly enjoyed the experience in testing of running without traction control and engine braking.
"There has been a strategic investment in the facilities at Milton Keynes, doubling the capacity of our manufacturing facility, which I believe puts us on a par with any team in Formula One. The infrastructure of the team has grown and we now have the right tools and equipment in place. And with the key recruitment of Geoff Willis as Technical Director last summer, we are now working as a cohesive group."
More people had their say at the launch:

Specifications
Chassis: Composite monocoque structure, designed and built in-house, carrying the Renault V8 engine as fully stressed member
Transmission: Seven-speed gearbox, longitudinally mounted with hydraulic system for power shift and clutch operation.
Clutch: AP Racing
Wheels: OZ Racing, Front: 12.7in x 13in, Rear: 13.4in x 13in
Tyres: Bridgestone
Front suspension: Aluminium alloy uprights, upper and lower carbon wishbones and pushrods, torsion bar springs and anti roll bars, Multimatic dampers
Rear suspension: Aluminium alloy uprights, upper and lower carbon wishbones and pushrods, torsion bar springs and anti roll bars, Multimatic dampers
Brakes: Brembo calipers / Hitco carbon discs and pads
Electronics: FIA (MESL) standard control unit
Fuel: Elf
Renault engine RS27 - 2008
Number of cylinders: 8
Capacity: 2400cc
Max rpm: 19,000rpm
Number of valves: 32
Vee angle: 90 degrees
Power output: Not disclosed
Engine construction: Cylinder block in cast aluminium
Engine management: FIA (MESL) standard control unit TAG310B
Oil: Elf
Weight: FIA minimum weight of 95kg
---
---